Simferopol
Address:
295491, Crimea, Simferopol, Aeroflotskaya village, airport area, 36A
A decision to open a subdivision at the Simferopol city airport was made by the Board of directors CJSC Aeromar on June 4th, 2014, and already on July 1st the production site was entirely ready to start operating. On July 3rd, 2014 the branch «Aeromar-Simferopol» provided the first services to the special squadron flight «Rossia». Quality and top standards of inflight menu, offered by our chefs, deserved gratitude of the crew of the top class civil aviation unit of the country.
On July 14th, 2014 the branch «Aeromar-Simferopol» started to serve regular Aeroflot flights. Production indicators of the branch – the number of produced inflight meals, the number and quality of other types of services, supplied to aircrafts, are constantly growing.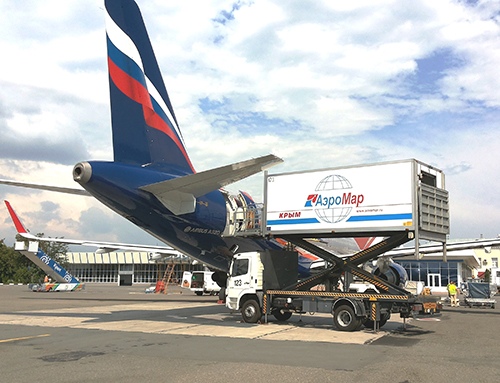 Technological procedures in the branch are managed by highly qualified specialists, strictly conform with both Russian and international legislation requirements, and recommended practices of international civil aviation organizations – ICAO and IATA. Special attention is paid to fulfillment of sanitary and hygiene standards, safety, regularity, reliability and cost effectiveness of serving the flights of aircrafts.
Inflight meals menu presentations as well as presentation of possibilities of the branch in terms of provision of cabin cleaning and equipping services to aircrafts were held for the representatives of the airlines, operating regular, charter and special business flights to the international «Simferopol» airport. Demonstrated high standards of service, principals of individual and careful treatment of every customer and aspiration to minimize production cost of the airlines were duly appreciated by air carriers. Resulting from carried out presentation there were achieved the agreements on cooperation of the Branch with a number of top airlines, operating flights to Crimea.